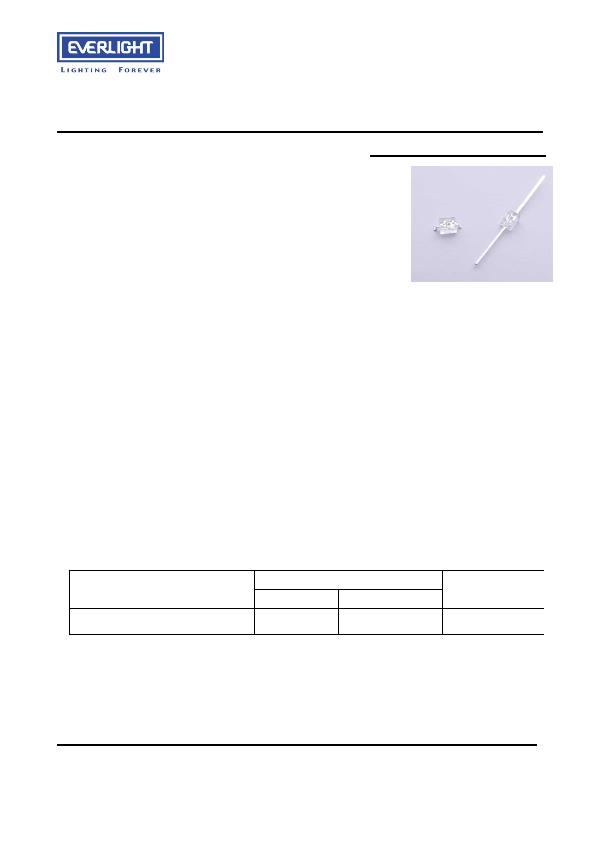 EVERLIGHT ELECTRONICS CO.,LTD
Everlight Electronics Co., Ltd. http://www.everlight.com Rev. 2 Page: 1 of 9
Device No.: SZDLE-281-001
Prepared date: 30-Jun-2011 Prepared by: Xie haitao
Technical Data Sheet
1.4 mm Height Subminiature , Axial Flat Top View LED
Features
$Package in 12mm tape on 7" diameter reels.
$Compatible with automatic placement equipment.
$EIA Std. package.
$Mono-color type.
$Pb-free
$The product itself will remain within RoHS compliant version.
Descriptions
$The28-21 SMD LED is much smaller than
leaded components .Thus enable smaller
board &nbsp&nbsp&nbspsize. &nbsp&nbsp&nbspHigher &nbsp&nbsp&nbsppacking &nbsp&nbsp&nbspdensity.
Reduced storage space and finally smaller
equipment to be obtained.
$Besides, light weight makes them
ideal for miniature applications.
$Furthermore by automation assembly
machines the accuracy is anticipated.
Applications
$Small indicator for indoor applications.
$Flat backlight for LCD, switches and symbols.
$Indicator and backlight in office equipment.
$Indicator and backlight for battery driven equipment.
$Indicator and backlight for audio and video equipment.
$Automotive : backlighting in dashboards and switches
$Telecommunicationindicator and backlighting in telephone and fax.
Part No.
Chi&nbsp&nbsp
Lens Color
M&nbsp&nbsp&nbsp&nbspri&nbsp&nbspl
Emi
l&nbsp&nbspr
28-21UYC/S530-XX/XXX
AlGaInP
Brilliant Yellow
Water Clear
F&nbsp&nbspTR
2&nbsp&nbsp-21